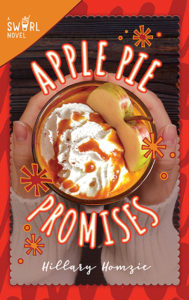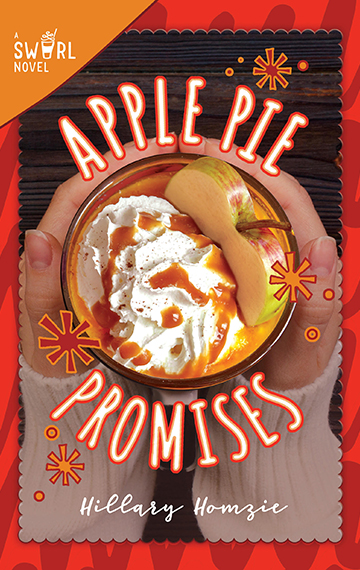 What better way to celebrate local middle grade author Hillary Homzie's new book, Apple Pie Promises, and the coming of autumn, than with an apple pie baking contest! Join Hillary for a reading from her book and a Q & A session at 3:00, then at 3:30 she'll judge your homemade pies! All are welcome to enter, and all entries will get 10% off the book (as well as the chance to try each other's pies). Third and second place will win special ribbons and get a photo together with Hillary for our website; the first place winner will win a signed free copy of the book, a $10 gift certificate to Napa Bookmine, and a solo photo with Hillary.**
Lily has lived with her mom since her parents got divorced several years ago, and her dad has recently remarried to a woman with a daughter her age named Hannah. But now, Lily's mom has gotten a once-in-a-lifetime work opportunity in Africa and she'll be gone for a year, so Lily is moving in with her dad—and new stepmom and new stepsister. It'll be as easy as apple pie, right? Wrong. Lily promises her dad that she'll try to get along with everyone, but she is not happy about it. Her stepmom is nice, but she's no replacement for her real mom, and Lily feels like she barely gets any one-on-one time with her dad anymore. The real problem, though, is Hannah. What starts out as tension between the new stepsisters becomes a full-on war, both at home and at school. Harmless pranks turn into total sabotage. Can Lily survive the year—or is her family fractured beyond repair?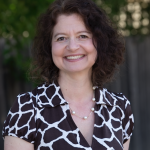 Hillary Homzie is the author of tween novels
Pumpkin Spice Secrets
,
Queen of Likes
,
The Hot List
, and
Things Are Gonna Get Ugly
, as well as the comedic chapter book series Alien Clones From Outer Space. During the summers, Hillary teaches in the graduate program in children's writing at Hollins University. A former sketch comedy performer in NYC, Hillary currently lives with her family in Napa.
**All entries need to be at Napa Bookmine no later than 3:00!
Event date:
Sunday, October 7, 2018 – 3:00pm
https://www.napabookmine.com/event/apple-pie-baking-contest-hillary-homzie