As a kid growing up in Charlottesville, Virginia, Hillary Homzie understood how to build a fort in the woods, read under the covers, and playact complex scenarios involving poisoned acorns and orphans. However, she never mastered good comebacks to bullies or how to be cool in middle school, so she studied what she didn't know, and now writes about it.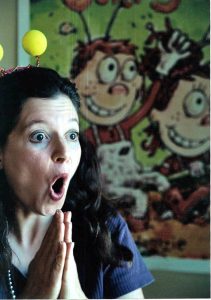 When I was six years-old, my family moved from Virginia to England for one year because my dad was teaching at the University of Sussex and I found myself put back a grade because I didn't know how to read. Back then nobody taught reading in kindergarten in the states but in England they apparently did, and so back I went. I started in the Bluebird Group and, whether it was due to public humiliation or determination, I learned how to read in two weeks and immediately advanced to the second form (equivalent to first grade in the states). Once I learned how to read, I didn't want to stop. I was the read-under-the-covers, read-the-back of cereal boxes, read-the-writing-on-the-back-of-bathroom-stall kind of reader. Most of all, I loved losing myself in a book and some of my favorites back then included, Little Women, All-of-a-Kind Family, Charlotte's Web, A Wrinkle in Time, Watership Down, A Door in the Wall, Henry Huggins, A Secret Garden, The Witch's Buttons, and Tuck Everlasting.
In second grade back in Charlottesville, Virginia, I remember the joy of coming up with stories and illustrating on lined green paper with a place to draw on top. And then when my teacher, Mrs. McCrone, wrote me a goodbye note, she said: "To Hillary, a future writer." I'll never forget those words. From that moment on, I knew that I REALLY wanted to become a writer.
While I wrote for school assignments, I was not the kid who started her first novel in elementary school, far from it. Perhaps, it was because I was a child of the 1970s and watched far too much TV—back then mothers thought keeping your children in front of the TV for hours at a time was a privilege not to be wasted. However, I kept a diary in fifth grade (which I lost in all of my adult shuffling around) but most of my writing was done in my head through imaginative play. While I was picked last (or perhaps second to last) when it came to kickball, I was the acknowledged queen of Barbies and of the wonderful world of let's pretend we're fairies or abandoned children whose mother has been sucked down a black hole. My sister Leslie would often crawl into my bed, take a photo from the Sears catalog and beg me to tell her a story about the chosen girl. Our favorite story starters were photos send to my mother in holiday cards, and in particular, of the Texas cheerleaders. I'd make up adventures of Kristen and Keri on a weekly basis, with Leslie whining for more tales. During my middle school, I continued to regularly visit my middle school library and some of my favorite books were anything by Richard Peck, Paula Danzinger, Judy Blume, Norma Klein, Robert Newtown Peck and Ellen Conford.
In high school, I joined the newspaper staff of the Knight Time Review and, by my senior year, I was editor of the paper. For a long time, I imagined myself becoming a famous journalist, instead of a writer of fiction and creative non-fiction for kids, so when I went to the University of Virginia I joined The Cavalier Daily  and spent more time writing for the paper then doing my actual schoolwork.
After graduation from the University of Virginia, I waitressed for a summer and spent a couple of months traveling in West Africa. Now that was a wonderful adventure! I got malaria because I camped out under the stars and the mosquito, spoke to a magic fish, trudged through a swamp, bailed out my friends who were thrown in jail by a very unfriendly political regime and slept under the stars. Good stuff for a romantic action novel. I think I'll have to do one of those someday. Someday, I'd also love to travel to North Africa, as my father's family comes from Algeria, and I'm often asked about my last name (it's pronounced Hom-zee by the way). According to my grandfather (who was raised in the states but spent time being schooled in both Algeria and France), our last name is actually Amizi, but that during the immigration process something got lost in translation and it became Homzie. Anyway, when I was traveling in West Africa, I did get as north as Mali, which culturally share some similarities with North Africa, including the shared history of French colonialism.
When I got back to the United States, I became the news director at WJMA radio station in Orange County Virginia. I got up at 4:15 in the morning every day. Not a good move for a night owl.
Next, I wrote newsletters and press releases for the Pennsylvania Ballet in Philadelphia. The problem: I didn't know a thing about ballet. That was my first fiction job, I think. At least as someone is French speaking, I understood some of the ballet terms.
After the ballet gig, I moved to New York City and I wrote and performed sketch comedy for a few years as a part of a sketch comedy group, RUBBER FEET and HA! Comedy Duo. And then I decided to concentrate on what I love best. Writing books.
Over the next bunch of years, I practiced the craft of writing and wrote for magazines and newspapers. My day jobs included teaching French to three year-olds, temping for a bank, and teaching English to Russian immigrants.
When I moved to Philadelphia, where my husband Matt was going to law school, I wrote freelance newspaper or magazine articles. To have a regular salary and health benefits and all of that good stuff, I worked in a various positions including,
secretary (Xerox gal and champion paper jammer)
library assistant (magazine reader and date stamper)
public relations (newspaper reader and blabber mouth)
health information (paid for being a blabber mouth)
While I was working during the day, I took a lot of classes and got two master's degrees—one in education at Temple University and a degree in Children's Literature and Writing at Hollins University.
I love to teach writing to students and give seminars and  inservice workshops to teachers on teaching creative writing. I'm currently a visiting professor in the graduate program of children's  writing and literature at Hollins University. Additionally, I teach media writing during the academic year at Sonoma State University.
Ever since then I've been working hard on learning as much as I can about writing for kids and young adults. That means I read as much as I can. Of course, these days I get a lot of up close experience with kids since I'm the mom of three boys: Jonah, Ari and Micah!. As the only girl in the family, I'm pretty much out-numbered! But my guys teach me so much, which is great with me because I love learning.